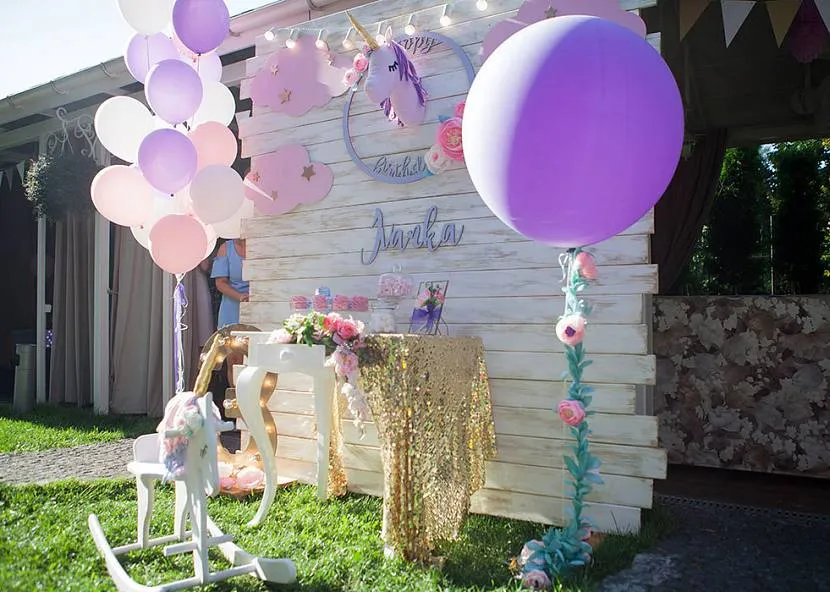 How to decorate a children's party
Bright balloons are the best decoration for children's parties. They bring joy to the house and give an unforgettable experience to the baby and his guests. You can think of many ways to decorate the celebration with these colorful products. Unusual decorations will complement the interior of any room, make the holiday original and memorable.
It is appropriate to decorate the house with balloons not only inside but also outside. A great idea would be a favorite character, like Winnie the Pooh, like here. After all, there is nothing more exciting and beautiful than an interesting decor of your own site, conceived in honor of the happiest celebration – the holiday of the child. Ideas for decorating with balloons can be completely different, but the choice of decoration depends on the preferences of the kid, his age and the theme of the celebration.
Balloons for a child's birthday party will create a festive mood. They are so varied in shape, size and color that they never cease to amaze kids. Create a mood at your party – run a few dozen bright spheres under the ceiling, scattered around the room. They can easily create flowers by attaching a thread around a small central ball with several bigger "petals". Pick your child's favorite colors to please him.
The decoration of a child's birthday party depends on the age of the child and his or her taste preferences. For the birthday child under 5 years old, you can choose children's decor with a picture of cute animals, usually parents do this.
The mood of the birthday child and guests depends on how the hall will be decorated. Colors in the interior have an impact on a person's feelings. In a room decorated with black and blue balloons, the guests will be sad and not talkative.
You need to think through all the details of decorating a room for a children's birthday party to create a pleasant and comfortable environment for guests. A good mood and a relaxed atmosphere – the key to a successful children's party.
How to decorate a room for a boy
Boys are crazy about the characters of cartoons "Cars", "Toy Story", "Beyblade" and others. Decorate their holiday themed balloons is not difficult, but how much joy it will bring the kids – hard to even imagine. Decorating the premises with these products is inexpensive, but certainly allows a bright, original and colorful way to decorate the child's celebration that he will remember for a long time. Pirate or cowboy party also do not do without such a decor. Now there are different versions of balloons made with children's preferences in mind.
How to decorate a girl's room
Depending on the general theme of the children's celebration, you can organize an interesting decor with balloons. For example, many girls' birthdays are held in the form of princesses holidays, the little girls are dressed in ball gowns, their heads are decorated with crowns. For such an event is appropriate to use large and small balloons of all shades of pink with flecks of white, pearl and silver.
In order to properly decorate a children's party with balloons, it is necessary to take into account only what the kid likes. Based on his preferences, you can decorate the room with colorful flying products from foil, arches, colored helium balloons, huge surprises or inflated names and numbers. Listen to your child's wishes in advance and create a rainbow mood. The birthday child is sure to appreciate your efforts and reward with a happy smile, which can be captured in a photo along with the original decoration.